Buy Sonar Screensaver
Order Sonar Screensaver and get
no more reminder messages
unlimited time of operation
no more nag windows
free technical support via e-mail
instant key code delivery
free upgrades to new version
30-day unconditional moneyback guarantee
Full Sonar Screensaver cost is $19.95 or €15.99
To buy the screensaver, download it and press "Buy" button. Activation is transacted on secure eSellerate site (below).
Discounts are now available!
50% for review at Download.com Leave your opinion on Sonar Screensaver at Download.com and notify us – we will give you a coupon code for 50% discount on the total order.
25% for 2 copies or more Order two or more copies of the Sonar Screensaver to get 25% discount.
15% for a bundle Place one or more of our other screensavers to your order for 85% of their regular price.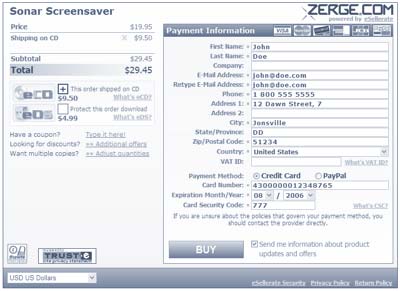 100% secure to order
You can feel safe using your credit card here without risk. We process your orders through eSellerate, one of the most trusted names in online order processing.
eSellerate Inc.
5901 North 58th Street
Lincoln, NE 68507-3249, USA
You can also buy Sonar Screensaver in our webstore: www.zerge.com/order.